e-RS is your partner for complete EV solutions

Are you looking for charging solutions for multiple Electronic Vehicles on your business park, holiday park, shopping centre or other parking lot? E-RS offers a unique solution, where we develop and implement a complete Charging Park Management system.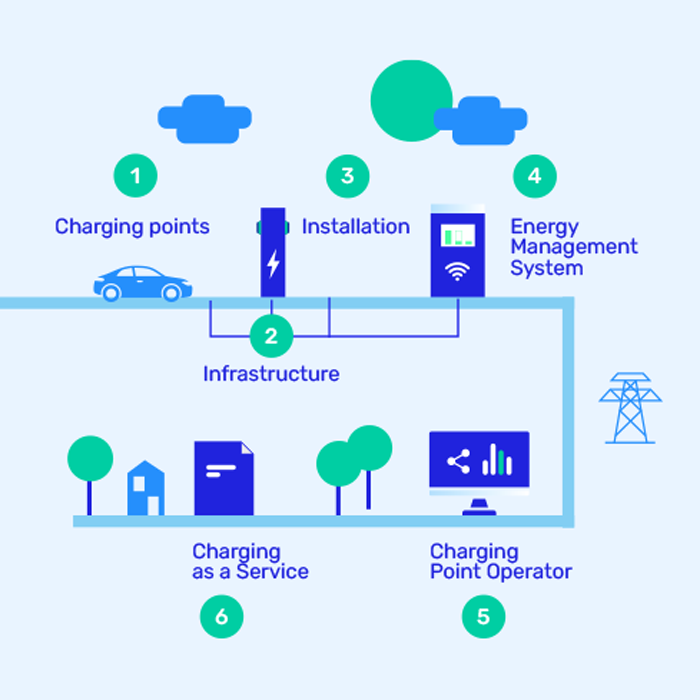 Why do our customers choose
for e-RS charging solutions?


Complete solutions
We take care of your charging need
from A to Z

Futureproof
Modular and centralized technology

Safe
No continuous power, so no collision protection required
Unlimited load balancing
Available power can be distributed to an unlimited number of charging points

Lower TCO
Long durability of charging of components
Why you need to start thinking about Electric Vehicles and Electronic Charging today?

These are the European Green Deal Goals for 2030
Charging points
are needed
per 2 EVs
Charging points
to be realized
by 2030
e-RS is collaborating together with different specialised
companies from The Netherlands and Belgium, in order
to deliver your project from a to z.

Raepsaet product design provides engineering & prototyping services for mechanical components and systems.
Raepsaet product design contributes to the transition to a Green & Smart City. For this a number of affordable solutions for electric charging points [for bicycles and cars] and information kiosks have been developed.

Sagro is a leading multidisciplinary company in the field of infrastructure, demolition, logistics, environment & space and recycling.
'Sustainably working on space for the future', that is what we do in various ways. We literally make space by dismantling old objects. But we also create new space by preparing sustainable living environments for construction and housing.

aatechnics is a fast-growing technical company that assists multisite businesses having complex processes with their technical operations: mobility, security, electricity, energy. aatechnics is committed to creating socio-economic value through technical innovation and customer service and operates from 2 offices covering Belgium and Luxemburg. Our technical team guarantees a 24/7 service.

Phoenix Contact is a global market leader and innovator in the field of electrical engineering.
Phoenix Contact E-Mobility GmbH is the center of expertise in the field of charging technology for e-mobility. As a full-service provider, we develop and manufacture components and solutions for charging infrastructures as well as for vehicle charging interfaces.